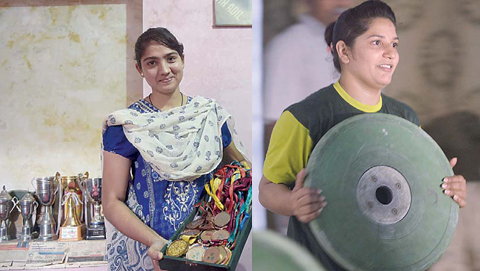 LAHORE: Twinkle Sohail and Sonia Azmat have the weight of the Pakistani Christian world on their shoulders, but if anyone can bear the hopes of such a persecuted minority, it is these teenage champion powerlifters. Last year Twinkle became the first Pakistani woman to represent her country in powerlifting, taking a gold medal in the 57-kilogramme junior event at the Asian Bench Press Championship in her first attempt.
The next day, her teammate Sonia took a second gold medal for Pakistan in the 63-kilogramme category, earning her place in the history books alongside Twinkle. The achievements of the two young Christian women represent a rare bright spot for a minority who frequently find themselves the targets of extremist attacks-such as the one carried out in Lahore last Easter that killed 72 people, many of them children.
Christians also routinely fall victim to the country's controversial blasphemy laws, which carry the death penalty in the conservative Muslim country, and many are stuck in menial jobs such as sanitation or domestic work. But Twinkle and Sonia, both 19, are proving an inspiration after their triumph in Muscat last year-boosted by a third gold medal from their Muslim teammate, Shazia Kanwal, to see the Pakistanis outclass athletes from 12 countries.
Pakistan, where cricket is the dominant pastime, is taking the rare opportunity to seek success in other sports, funding the women's' return to the Asian championships in Tashkent in October. With luck they will go further: to the World Powerlifting Championships next year in Florida, in th US. It will be a long way from the tiny homes on narrow, congested streets in the impoverished Christian areas of Lahore where Twinkle and Sonia were both born.
'I WANTED TO BE LIKE THEM'
Twinkle began her career as a cyclist, but was spotted by weightlifting coaches while exercising in the gym and advised to take up powerlifting. This is a branch of weightlifting using the squat, bench press, and deadlift techniques but without any moves lifting the weight vertically overhead. Along with Sonia, Twinkle was taken on by coach Rashid Malik, a 2012 London Olympics official and himself an Asian medallist. "These two were best," Malik told AFP while supervising his stars training at a shabby gymnasium in Lahore, abruptly plunged into darkness during another of the periodic power outages that afflict the country. To reach the top, Twinkle says she and her teammate had to work harder than their Muslim counterparts.
"Whether it is at school or for sports, only by putting in twice the work can we ensure ourselves a better place than the majority Muslims," she says. Sonia, whose father abandoned her family and whose mother worked several jobs to support her children, tells of female athletes going to work out at the Railway Stadium in Lahore. She would watch daily, she says, as she prepared to go to work at her job in a factory. "I wished to go with them, wear joggers like them and do what they do," she tells AFP in her modest Lahore apartment, tucked over a flight of narrow, dark stairs.
LIGHTING THE WAY
Now she and Twinkle have themselves become inspirations. They are not the first Pakistani Christians to scale new sporting heights, with previous trailblazers in cricket, hockey and athleticsincluding former Pakistan cricket captain Yousaf Youhana, though he later converted to Islam. But they are young, they are women-still a factor against them in patriarchal Pakistanand, unlike many of Pakistan's other athletes currently in the spotlight, they are winning. "A gold medal is not a usual or ordinary thing," weightlifter Shetal Asif, another Christian woman aspiring to compete internationally, says. "They have performed really well," she tells AFP, describing how her sister and cousins have also been inspired to take up weightlifting after Twinkle and Sonia's success.
A lack of media attention means the pair have not yet set the entire Christian community alight, Shetal admits. "But those who know are inspired," she adds. "The rise of Twinkle and Sonia has renewed hopes of young Christian athletes and will encourage more youngsters to win laurels for the country and respect for themselves," says Shamaun Alfred Gill, a Christian activist. Hira Arshad, who attends the same college as Twinkle, says her achievements are inspiring not just Christians, but women as well. "After Twinkle's success, now every girl wants to come ahead and get fame for herself and her country," she says-including herself. "I am a Muslim, but I am impressed by her performance, and there are other Muslim and Christian girls who are equally impressed and want to play sports at the international level." Many of them contact Twinkle and Sonia for advice, the pair say. "I tell them come, work hard," Sonia says. "Take Pakistan to new heights." —AFP