KUWAIT: Kuwait Fire Force said a concrete truck flipped over and caught fire on Seventh Ring Road. The driver was trapped in the vehicle and died in the accident. Jleeb firemen responded, freed the body and handed it to interior ministry authorities.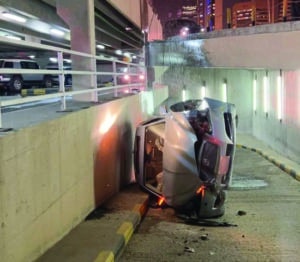 Car fall
A 63-year-old Kuwaiti woman suffered various fractures after her car fell from the first to the ground floor of Amiri Hospital parking lot after colliding with a pole. The woman was taken to hospital for treatment.
Two-car crash
Qurain firemen responded to a call about an accident between two vehicles on King Fahad Expressway, resulting in the death of a Kuwaiti man in military uniform.