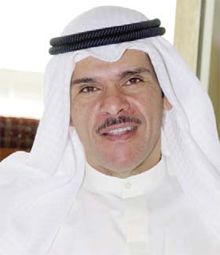 KUWAIT: Minister of Information and Minister of State for Youth Affairs, Sheikh Salman Sabah Salem Al-Hmoud Al-Sabah yesterday asserted that Kuwaiti laws are in full compliance with the independence of the sports movement, the Olympic Charter and the laws of international sports.
The Minister called, in a letter of thanks to the International Olympic Committee (IOC), for convening a meeting between the official authorities and representatives of the (IOC) and the Kuwaiti Olympic Committee (KOC) in Kuwait to discuss the reservations raised by the KOC and the IOC during the meeting in Lausanne regarding the lack of compliance of some Kuwaiti legislation with the Olympic Charter.
The minister commended in his letter of thanks the IOC for the meeting that was arranged between the Kuwaiti parliamentary and government delegations and representatives of the KOC and the IOC in Lausanne, Switzerland, on October 12th.
The letter included an explanation of the concept of the independence of the sports movement in accordance with the provisions of the Olympic Charter and a comparison of the Kuwaiti laws adopted in neighboring countries and the world, confirming Kuwait's respect for international sports legislation and its commitment to the adoption of advanced laws in the area of respect for the independence of the sports movement.
Meanwhile, in a pre-departure statement ahead of his visit to Lausanne, the Minister reaffirmed Kuwait's "unequivocal respect" for the Olympic Charter and the international sports regulations. "The Kuwaiti legislation are more advanced than those of other countries in the region; they are on par with the international standards. He voiced hope that everybody will work for the interests of Kuwait and refrain from any measures that could have negative impacts on the progress of the sports movement in the country.
On the other hand, the majority of the local sports clubs renewed commitment to the regulations, approved by the sovereign legislative authorities of the state, and respect for the guidelines set forth in the Olympic Charter. In a joint statement after their meeting at Al-Salmiya SC on Thursday night, representatives of nine, out of the 15, sports clubs said the legislative authorities are always keen on non-interference in the technical and administrative affairs of the clubs. - Kuna