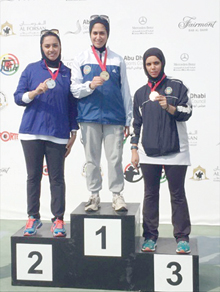 ABU DHABI: Kuwait's female shooters won three medals yesterday in the skeet competitions for single shooters as part of the Grand Prize championship for clay targets, currently held in the Emirati capital.
Shooter Eman Al-Shamma won the gold medal and first place, while her teammate Afrah Mohammad earned a silver and second place, and Sheikha Al- Rashidi clinched a bronze and third place.
The Kuwaiti shooters, in separate statements to KUNA, dedicated their achievements to their country's leadership, government, people, as well as all shooting activists in Kuwait, including administrators, practitioners, and trainers.
Commenting on the win, Saad Al-Sowait, the Kuwaiti team's administrator, commended the female shooters' strong will and determination to attain medals in this tourney, pointing out their dedicated commitment and hard efforts during trainings for the championship. —KUNA