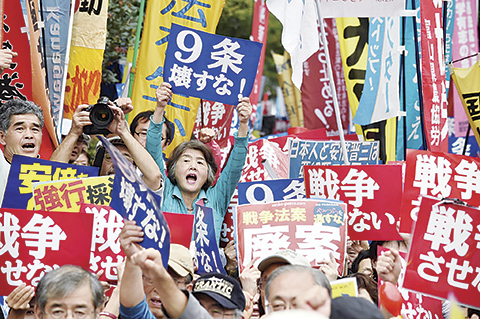 TOKYO: Swelling crowds gathered outside Japan's parliament yesterday as lawmakers looked close to passing security bills that could see Japanese troops fight abroad for the first time in 70 years. Japan was on the verge of passing bills yesterday that will allow troops to fight on foreign soil for the first time since World War II, despite fierce criticism it will reshape the proudly pacifist nation.
As the evening ticked on, Prime Minister Shinzo Abe's ruling coalition and opposition lawmakers remained at loggerheads inside parliament, where the controversial changes are expected to pass into law tonight. Tensions are running high the day after scuffles broke out in parliament, while outside thousands stood in the rain to voice their opposition to what could be the biggest shift in Japan's defence policy for half a century.
Tens of thousands of people, young and old, have taken to the streets for weeks in almost daily rallies, in a show of public anger on a scale rarely seen in Japan. As some 100 extra police officers arrived on the scene, Yoko Fujiwara waited with her six-year-old daughter, who carried a hand-written sign saying: "We do not forgive. Children are angry, too." "I came to the protest together with my daughter to show what real democracy is like," said the 40-year-old graduate law student.
Nationalist Abe wants what he calls a normalization of Japan's military posture, which has been restricted to narrowly defined self-defense and aid missions by a pacifist constitution imposed by the US after World War II. He and his backers say the changes are necessary because of threats from an increasingly belligerent China and unstable North Korea.
Opponents argue the new laws-which would allow the tightly restricted military to fight in defense of allies-go against the national psyche and could see the country dragged into American wars in far-flung parts of the globe. Tempers flared in Japan's parliament on Thursday, where chaos broke out as opposition politicians physically tried to block a committee approving the bills. In scenes closer to a rugby match than the usually sedate parliament, lawmakers at one point jumped on each other in a huge scrum to prevent the vote.
'Raise my voice'
One lawmaker dressed in black and carried Buddhist beads in a mock funeral procession as he cast a vote in support of an upper house censure motion against Abe. Yukio Edano, secretary general of the main opposition Democratic Party of Japan, said the government had "lost its rational mind" as he launched a tirade on the parliament floor.
Despite opposition efforts, the bills are still expected to pass as the ruling coalition holds a majority in both houses of parliament. Abe has faced fierce criticism for both the laws themselves and the way he has driven them through in the face of public opposition. There are growing signs this is taking a political toll-opinion polls show the vast majority of Japanese are against the changes, and Abe's once sky-high approval rating is dropping.
Unable to muster support to amend clauses enshrining pacifism, Abe opted instead to re-interpret the document for the purpose of his bills, ignoring warnings from scholars and lawyers that they are unconstitutional. Opponents, including a Nobel-Prize winner, popular musicians and other prominent figures, say the changes could fundamentally alter Japan.
"I don't want the government to reinterpret the constitution no matter in what way you look at it," said Hiroyoshi Yamaguchi, 68, among the crowds outside parliament. "Regardless of what it takes, I will raise my voice against it." Washington has backed the changes, but regional rivals China and South Korea have expressed concern at any expansion of Japanese military might. China's foreign ministry spokesman Hong Lei on Friday called on Japan to "listen carefully to voices inside and outside the country calling for justice" and called on lawmakers to "take real actions to protect regional peace and stability".
Security experts say the bills will force a reevaluation of Japan's place on the world stage. "The bills are a psychological message to the world that an era in which Japan should not be involved in conflicts because of its exclusively defense-oriented policy is over," said Hideshi Takesada, a professor at Takushoku University in Tokyo. - AFP