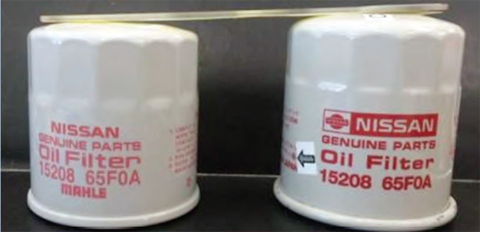 KUWAIT: Counterfeit parts are known as the cancer of car industry as it is a phenomenon that continues to grow in the parts market and has a very negative impact on automotive brands and the industry as a whole, said Samir Cherfan, Managing Director of Nissan Middle East. In an interview, Cherfan also highlighted the importance of creating awareness among vehicle owners and said Nissan is committed to educate its customers across the region to ensure their safety first. "By imitating the brand image while providing customers with cheap quality, it potentially has a strong impact on a customer's brand quality perception," he said. Excerpts
Question: Why is buying cheaper / counterfeit parts such an issue for the regional automotive industry?
Cherfan: Counterfeit parts present a real danger for driver and vehicle safety, and greatly increase the potential for expensive repairs and road accidents.
Counterfeit parts are also known as the cancer of car industry. It is a phenomenon that continues to grow in the parts market and has a very negative impact on automotive brands and the industry as a whole. By imitating the brand image while providing customers with cheap quality, it potentially has a strong impact on a customer's brand quality perception.
As one of the leading brands in the Middle East with significant sales and aftermarket parts business, we are always a target for imitators and counterfeit suppliers.
Q: What are the safety implications of buying counterfeit parts for Nissan cars?
Cherfan: Counterfeit parts pose many dangers to passengers and problems to the vehicles they are installed on. To give you a few examples, counterfeit brake pads greatly reduce the stopping power of a vehicle as opposed to the genuine ones which increases the possibility of accidents. Another dangerous example is counterfeit Airbags which may not deploy properly, if at all, during impact which can greatly increase fatalities of drivers and passengers.
Counterfeit parts are not built to the same specifications and genuine parts, and can lead to catastrophic damage to a vehicle and result in expensive repairs. For example, counterfeit oil filters can degenerate much faster due to substandard quality materials and may disintegrate, causing the debris to mix with the oil and lead to major engine seizure and failure. Repairing engine damage from such a simple component is expensive.
Q: What services does Nissan have in place to encourage people to buy parts easily from authorized distributors?
Cherfan: Nissan's extensive network of authorized service centers and parts dealers across the region makes it easy for Nissan owners to find genuine, guaranteed parts easily and affordably. We offer competitive pricing for parts and when you factor in the potential risks of using counterfeit parts, Nissan genuine parts provide guaranteed peace of mind on quality and reliability.
Nissan also has a range of Associated Products for post-warranty customers called Nissan Key Value parts which offer the best peace of mind for customers with vehicles beyond 3+ years of ownership.
Q: What else are you doing in this area to raise awareness of this issue?
Cherfan: Nissan is committed to educate its customers across the region to ensure their safety first, and also to prolong their satisfaction and joy with their Nissan vehicle.
Some of the activities Nissan undertakes include supporting road safety initiatives across the region. One recent example in the UAE was www.roadsafetyuae.com/original-spare-parts/ ; an initiative that serves as a communication, improvement and educational platform for all traffic participants in the UAE where Nissan sponsored the 'Original Spare Parts' section.
Nissan also regularly conducts regional 'Genuine versus Counterfeit' awareness campaigns through its aftersales marketing activities to build awareness of implications of using fake parts on safety and reliability.
Nissan is also committed to legally fight against counterfeit manufacturing locally and globally by supporting local authorities in conducting raids and cooperating with the wider automotive industry to stamp out the counterfeit market. Nissan's takes its customers' safety very seriously and takes legal action against counterfeit parts suppliers and distributors which use the Nissan brand to sell low-quality counterfeit parts in the region.
Nissan is closely involved with the safety and security stakeholders of a country by providing insights and training to customs, economic department, law enforcement and various ministry representatives across the region. The goal is to raise awareness and know-how among these stakeholders in order to help them easily identify and deal with such dangerous products. For example, Nissan has conducted eight seminars this year alone on counterfeit parts. Nissan also conducts surveys and research across its key markets to identify the threats of counterfeit parts on society.
Q: In which GCC market is Nissan facing issues the most around counterfeit pars?
Cherfan: The most country that presents such issues around counterfeit parts is the UAE. The country is a regional hub for import and exports between the east and west, making it a strategic location for counterfeit parts to be smuggled through its ports then forwarded on to other Middle East and African markets. At any strategic hub like the UAE, a significant volume of counterfeit parts do end up on the local market and consumers cannot tell the difference sometimes between fake and genuine, and end up paying the same price for fakes. This ultimately hurts the consumer but benefits the sellers who make greater margins on cheap, fake products.
Q: What are the parts which are usually counterfeited?
Cherfan: Counterfeit parts come in many categories, ranging from brake pads, oil filters, brake discs to gear switches, belts and even major drivetrain components. Counterfeit parts manufacturers make production decisions based on market demand for types of parts needed. Where they see high demand for specific parts, they produce the same parts in great quantities which results in confusion by the customer since the market is flooded with counterfeits, and the regular customer is unable to tell the difference between fake and genuine. This is why we always recommend that customers buy parts from authorized dealers, ensuring their safety and peace of mind.
Q: How difficult is it to spot the difference?
Cherfan: Spotting the difference in the past was easy with cheap packaging, incorrect product information and low grade materials giving customers small clues. With today's technology and innovation, it has become much more difficult to tell the difference.
Q: How quickly does the counterfeit start flooding out for a newly launched model?
Chefna: In the past, it took between 18-24 months but now it is much faster. We don't have exact numbers, but it can be as fast as 8 months before counterfeit parts appear on the market.
Q: Where are these parts manufactured?
Cherfan: Counterfeit parts are mainly produced in China. From an export point of view, Nissan is unable to have any control on where the manufacturing takes place but we do blacklist importers who bring these parts into the different markets.
Q: Does the quality vary from one counterfeit part to another?
Cherfan: Of course, for example we have seen a case of a counterfeit airbag for a Nissan vehicle. From the outside, it looks exactly like the original but once we put it to the test, the airbag component did not even contain the bag inside. It is like buying nothing; and in this particular case, you wouldn't be able to tell because an airbag is only used once. Imagine if this was only discovered when a collision had already taken place?
Q: How do you become aware about counterfeit parts coming into the country?
Cherfan: The various authorities are usually the first to intercept these parts at the entry ports or through customs checks or when they raid suspected warehouses. They usually contact Nissan to check on whether these are genuine or not. Nissan also has several independent agencies that conduct field investigations in the market and alert us about possible counterfeit dealers so that we can promptly inform the authorities.
Q: What is the punishment for those dealing in counterfeit parts?
Cherfan: Punishment can range from hefty fines and confiscation of goods, but can also lead to criminal prosecution and businesses being closed down. We haven't seen anyone going to jail but criminal cases can be filed which is then left to the courts to decide.