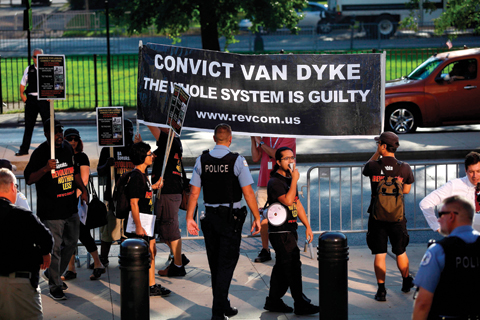 CHICAGO: A white Chicago policeman shot a black teen 16 times simply for having the "audacity" to ignore police, prosecutors said Monday, as opening arguments began in his politically-charged murder trial. Attorneys on both sides set out their cases in a courtroom packed with media, as well as supporters and family of both officer Jason Van Dyke and Laquan McDonald.
The 17-year-old's 2014 killing has become emblematic of decades of documented police abuse in the Midwestern city, which has been on edge over concerns that violence could break out if Van Dyke is acquitted. Lead prosecutor Joe McMahon, detailing a case heavily dependent on police dash-cam video, said Van Dyke unlawfully shot McDonald "not once, but twice, three, four, five, six, seven, eight-and we're only halfway done-nine, 10, 11, 12, 13, 14, 15, 16 times." "Not a single shot was necessary or justified," he said. Van Dyke simply saw "a black boy, walking down the street... and having the audacity to ignore the police."
McDonald's family looked on expressionless as video of the shooting was played for the jury. It showed Van Dyke firing at McDonald, who appeared to have been walking away from officers when shot. Van Dyke kept firing even after the teen collapsed. None of the other nine officers at the scene fired their weapons. Officials did not release the video footage for a year after the shooting, finally making it public only after a judge compelled them. Protesters demonstrated for months, alleging a cover-up and demanding resignations. Chicago's then-police chief and top prosecutor both lost their jobs.
'Tragedy,' not murder
Van Dyke's attorney Daniel Herbert countered with a portrait of McDonald as a dangerous criminal, high on the hallucinogenic drug PCP, who had threatened members of the public during a "wild rampage." "The government wants you to look at just the videotape," Herbert told the jury. "We're going to show you the context, because it's important in this case." The defense questioned McDonald's state of mind, invoking a sense of escalating threat on the night officers trailed him following a 911 call over an attempted burglary at a parking lot.
Van Dyke's lawyers argued that he fired because the teen suddenly began heading toward restaurants filled with people. "Jason Van Dyke had a reason to believe that Laquan McDonald was going to hurt somebody," Herbert said. "What happened to Laquan McDonald was a tragedy. It's a tragedy. It's not a murder." Police officer Joseph McElligott, among the first at the scene, testified that he was not threatened by the teen. Under cross-examination, however, he agreed that McDonald had "raised the threat" level, when he ran toward nearby restaurants.
Only a handful of protesters were outside the courthouse Monday, but the city was keenly watching the case's outcome. Few police officers have been convicted after recent highly-publicized incidents of deadly encounters between law enforcement and African Americans, which have prompted the establishment of the Black Lives Matter movement. "We're trying to get justice," McDonald family spokesman Marvin Hunter told reporters. "Justice in the matter of this case sets a precedent around this country for all of the people that have suffered what Laquan had suffered." _ AFP