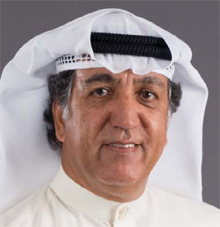 KUWAIT: Ahli United Bank B.S.C. (AUB) reported a net profit attributable to its equity shareholders of $419.2 million for the nine months ended 30 September 2015, an increase of 11.4% as compared to $376.3 million achieved in YTD Q3/2014. Adjusted for net exceptional gain of $24.2 million on sale of investments, YTD Q3/2015 net profit is $ 395.0 million, a 5.0% increase over the same period reported profit in 2014. The net profit achieved for the third quarter of 2015 was US$ 140.9 million, a 23.8% increase over the 2014 third quarter reported profit of $ 113.8 million. The Basic Earnings per Share in YTD Q3/2015 increased to US 6.5 cents, from US 6.0 cents in YTD Q3/2014.
The growth in the operating results of AUB was underpinned by the growth in its core banking income lines. Net interest income grew by 4.5% from $578.7 million to $604.8 million, while fee income grew by 6.0% from US$ 111.5 million to $118.2 million. The bank's focus on adopting a judicious "intelligent spend" approach, improved the cost income ratio to 27.5% (YTD Q3 / 2014: 28.9%). This surge in operating profit was achieved despite the continued challenging economic regional and international environment.
Prudent risk management and monitoring sustained its asset quality with the non-performing loans ratio standing at 2.1% (31 December 2014: 2.0%) while the specific provision coverage ratio improved to 84.2% (31 December 2014: 83.8%). Total provision coverage ratio, inclusive of collective impairment provisions, rose to 166.1% as at 30September 2015 (31 December 2014: 159.4%).
Robust performance
The Group's Return on Average Equity (ROAE) for YTD Q3/2015 increased to 16.7%, based on improved operating results as compared to 15.9% achieved in the prior period. Return on Average Assets was higher at 1.8% for YTD Q3/2015(YTD Q3/2014: 1.6%).
Hamad Al-Humaidhi, AUB Chairman, commented: "AUB continued its robust performance in the first nine months of 2015 even as regional economic activity moderates and international markets continue to be uncertain and volatile. AUB's sustained growth reflected in the YTD Q3/2015 result is a testament to AUB's well-managed business model based on diversification and cross border flows and of the success of its selective growth initiatives to increase operating income and mitigate risk challenges in its target markets."
"Despite expected upcoming challenges from an unstable global economy and its effect on AUB's target markets, AUB continues to remain confident of its resilience and ability to maintain its performance given its strong fundamentals and prudent, proactive management of risks and costs. It will continue to seek, identify and tap organic as well as inorganic growth opportunities within an acceptable risk? return framework," added Al-Humaidhi.