Ghanem, Muwaizri trade barbs * Govt denies 'protecting' fake social media accounts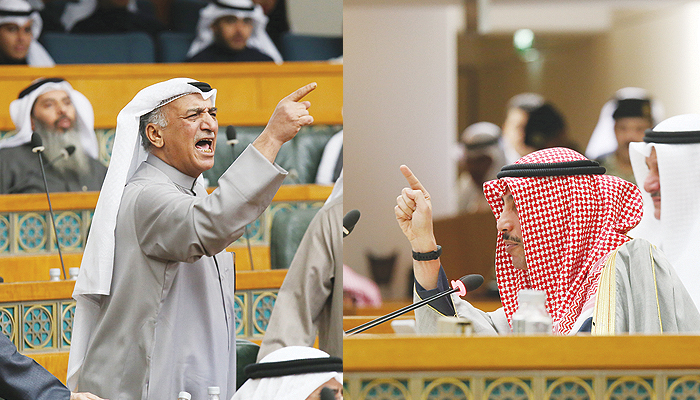 KUWAIT: The National Assembly yesterday delayed a highly anticipated debate on the membership of opposition MPs Waleed Al-Tabtabaei and Jamaan Al-Harbash until after the constitutional court issues its opinion on an objection filed by one of the lawmakers. Speaker Marzouq Al-Ghanem told reporters after the session yesterday that he has decided to wait for the opinion of the constitutional court on the objection filed by Tabtabaei asking the court to delay the implementation of its earlier key verdict.
The constitutional court last month ruled that article 16 of the Assembly's internal charter is unconstitutional and all actions based on it should be rescinded. The Assembly in late October used the article to vote to retain the membership of Tabtabaei and Harbash even though they had been handed a final jail term by the cassation court for storming the Assembly building during an opposition protest in Nov 2011. The constitutional court ruling means that the Assembly vote on the membership is null and void.
MPs have been divided towards the verdict, with some saying it amounted to interference in the Assembly's internal affairs, while others said it must be implemented immediately. Ghanem said the Assembly's office discussed the verdict and has approved the legal measures required, but he decided to delay those measures until the court reviews Tabtabaei's objection.

The Assembly session yesterday saw Ghanem and senior opposition MP Shuaib Al-Muwaizri trading strong language and accusations over the issue. Muwaizri asked Ghanem why he did not include a letter he had sent to the Assembly over the court ruling. The speaker told him that the letter was illegal and could not be included in the Assembly's agenda. The two then exchanged tough language and accused each other of not respecting the law and the National Assembly.
MPs also raised the issue of fake social media accounts which they claimed are being protected and used by influential people. MP Al-Humaidi Al-Subaei said a specific Twitter account is being protected and paid for by influential people. Interior Minister Sheikh Khaled Al-Jarrah Al-Sabah said that the government has already filed over 30 cases against the said account, denying any government protection. The Assembly then approved a motion calling on the government to give a statement in the chamber about its actions against fake and manipulated social media accounts.
MPs also criticized the government for not implementing a law allowing it to naturalize up to 4,000 people in 2018, but the interior minister said the government implemented the law and is prepared to cooperate if a new law is passed for 2019. The Assembly then approved the first reading of a law regulating psychiatric health services. MPs later agreed to move the sessions on Feb 19 and 20 because of the national day holidays and also moved the Jan 19 session to Jan 29.
By B Izzak