Tired of Shanghai club nights dominated by men, where a woman's appearance often matters as much as her musical skills, Eloise Fan has created an underground space where women DJs are free to shine. On a chilly spring evening, dozens of young women in a packed basement bar crowded around music producer Fan as she stood at the mixer, demonstrating how to transition between tracks.
The 30-year-old advertising professional is the co-founder of a label called "Scandal" that champions women producers and runs workshops teaching electronic dance music fundamentals. She and her team are part of a small number of women working to make China's nightlife safer and more welcoming.
In doing so, they are actively resisting conservative social norms—and, sometimes inadvertently, pushing up against a backdrop where anything seen as feminist is increasingly considered a challenge to authority. Fan's motive is simple. "I want to raise the visibility of women in the underground music scene, and let more people see them," she told AFP. "Perhaps we can jump-start everyone's inspiration."
Scandal began as a series of club nights, then released its first album in 2022. In "Shanghai Dreams", the label's all-women compilation released this year, ticking, whirring beats meld with the sounds of roaring waves and blurred vocals to express what the group calls an "alluring and deceiving" mood.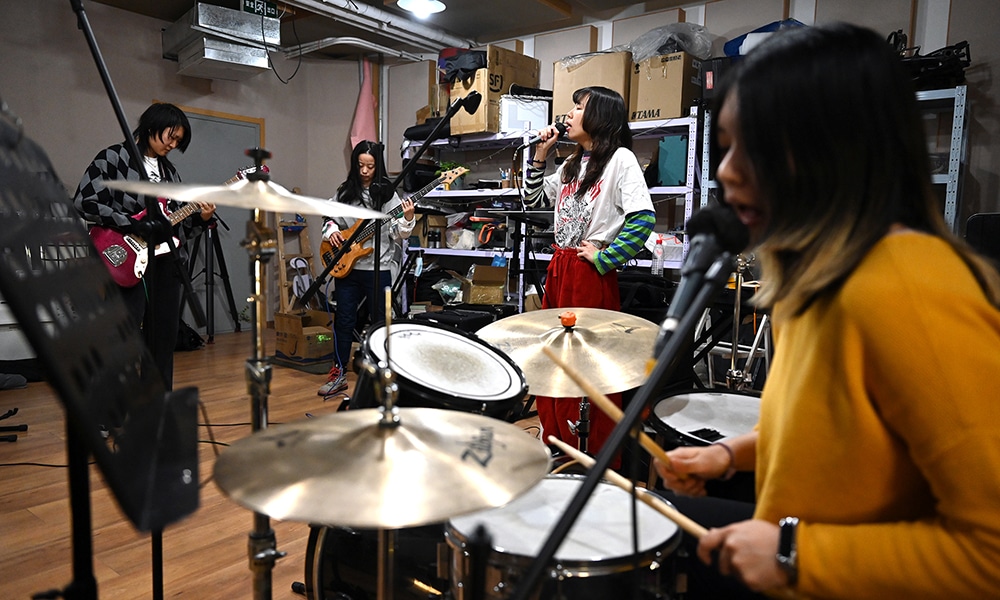 T-shirts vs make-up
In the bar, one of the featured artists gave the group pointers on developing an ear for music composition. Eva, who performs under the stage name Empress CC, said the underground electronic music scene is in some ways a refuge for women. The 31-year-old said that in mainstream clubs, some men perceive "paying to have women drink with you " as a status symbol.
Still, her experience as a professional music producer has shown her that even in underground circles, women must work harder than their male peers to make their mark. "For talented female DJs to be able to make a name for themselves, it's much harder than for male DJs who started at the same time and are at the same level," Eva said. More broadly, women in China must also contend with negative stereotypes of promiscuity and immorality that persist around women who frequent clubs and bars.
In 2020, when a young woman's visits to multiple bars were publicized by COVID tracers in the city of Chengdu, the flood of online vitriol and misogyny showed how widespread those perceptions can still be.
In recent years, conservative attitudes valuing women primarily for their appearance and childbearing have been increasingly reinforced by state media and popular culture. Even in more liberal circles, Fan often felt objectified in the clubs where she and her friends cut their teeth as DJs.
"Men can put on a t-shirt, sweatshirt and shorts and be a DJ, but women (are expected to) put on thick make-up, and dress up so they look sexy and beautiful," she told AFP. "One of the artists from our label told me she had previously been asked for her body measurements for a show." She pointed to other factors behind the relatively lower number of women in music. Parents often feel that it's normal for boys to be "naughty or cause trouble and play", but encourage girls to "make safer decisions", Fan said.
Labeled
Breezy, a 27-year-old legal professional from southern Guangdong province who has contributed to a Scandal album, told AFP she was proud of the project's overtly feminist aims. "Scandal can help women in China realize that female musicians can also do well," she said. But the feminist label can be a minefield for women trying to gain recognition as artists.
In China, women in the public eye often explicitly disavow feminism to avoid angering fans. Multiple people working on feminist projects involving nightlife venues in China told AFP they had attracted negative attention from authorities for their activities, and that speaking openly to foreign media about feminism would be too risky.
Under President Xi Jinping, authorities have cracked down on almost every kind of feminist activism, restricting NGOs, arresting high-profile figures, and suspending social media accounts. In capital Beijing, the all-female rock band Xiaowang said a reductive view of women's role in music can get in the way of their passion for loud sounds and rhythm.
The band's lead singer, Yuetu, has campaigned against sexual harassment at nightlife venues and is a firm believer in fighting for women's rights—but she takes pains to emphasize that her music is about much more. "I'm not in a band just to promote feminism," Yuetu told AFP. Nevertheless, she said she felt "a little bit of responsibility as a female musician." "I hope some young girls can hear the true voice of female musicians."—AFP