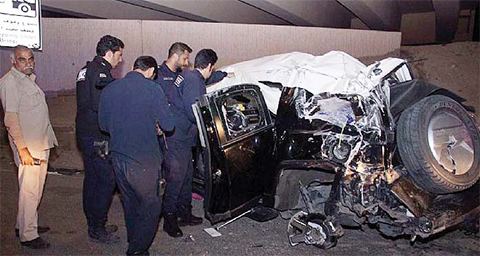 KUWAIT: A woman was killed and another was injured in an accident early yesterday on King Fahd Road. Firefighters accompanied by paramedics and police responded to an emergency call made at 3:14 am that reported a two-car collision under the bridge between Jabriya and Surra.
They discovered that one of the victims, a 22-year-old Kuwaiti woman, had succumbed to her injuries, while another Kuwaiti woman who was with her in the car was injured. Firemen helped the injured woman out of the vehicle and handed her over to paramedics, while the other woman's body was taken to the coroner.
A number of people who were in the second car sustained minor injuries, and were treated on site. An investigation was opened to determine the circumstances that led to the accident.
Child molester charged An Afghani national was arrested on charges of child sexual abuse, said security sources, noting that the girl's father said the suspect allegedly molested his daughter on her way to a baqala.
Drug possession An Asian arriving at Kuwait International Airport from his home country via a transit flight was arrested with 10,000 illicit pills he had hidden under a fruit basket.
Pedestrian mugged A Filipino man reported that five unidentified people attacked him while he was walking to his house in Salmiya. They threatened him with a knife and stole his wallet with KD 60 in cash, his civil ID and passport, in addition to a mobile phone. Meanwhile, a Kuwaiti citizen reported that his mobile phone was stolen while he was on the Shaab seafront. He pressed no charges against anyone.
Kidnap A Syrian woman filed a complaint accusing her husband of kidnapping their two boys, adding that the kids disappeared on the very day their father left the country. A case was filed and further investigations are in progress.
Prisoner assaulted An Egyptian central prison inmate filed a complaint accusing two Kuwaiti inmates of assaulting him. A case was filed.
Slaughterhouses' report Kuwait Municipality's public relation department announced that Ahmadi municipality food and markets control department inspected and supervised the slaughter of 28,201 heads of cattle including 27,071 sheep, cows, calves and camels for the public and 1,130 for butcheries and markets, said Ahmadi Municipality Manager Fahd Al-Shetaili. He added that 83 of the slaughtered heads weighing 220 kg were destroyed because they were unfit for consumption. Ahmadi municipality audit and follow-up manager Saad Al-Shaibah said 203 illegal ads were removed and 68,198 tons of imported foodstuff was examined.
Fire drills Kuwait Fire Service Directorate's (KFSD) Public Relations Office announced that Hilali fire center held a drill simulating fighting a fire in a 17-storey building using a 90-m fire ladder to rescue a man who was trapped and injured on the top floor. The drill also involved using a 90-m-long fire hose. Another drill was carried out by KFSD at a girls' primary school in Saad Al-Abdullah, where the scenario involved a fire in the school's storage area, with two injuries amongst the pupils. The drill was carried out by the Jahra fire team and the school's immediate intervention team was trained on evacuating and assembling around 1,000 pupils and the school staff in the school yard within two minutes.
By Hanan Al-Saadoun