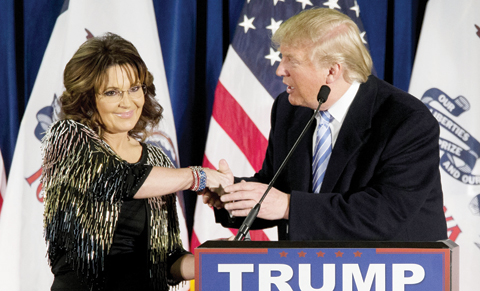 WASHINGTON: Former vice presidential nominee Sarah Palin endorsed Republican billionaire Donald Trump yesterday, saying the real estate mogul would "lead the charge" as America's next president. Palin, who flirted with her own White House run, emerged as a conservative icon and political powerbroker following her failed 2008 vice presidential bid. Since then she has endorsed several far-right candidates who went on to win seats in Congress. As the former Alaska governor and gun-enthusiast jumped back into the political limelight, it emerged that her son had been arrested on domestic violence charges after a fight involving a rifle.
On the political front the coveted endorsement of Trump comes just 13 days before votes are cast in Iowa, the debut contest in the presidential primary race, and it could give a welcome boost to Trump, the current Republican frontrunner. "No more pussyfooting around!" boomed Palin as she stood alongside Trump at his campaign rally in Ames, Iowa. "The president has to keep us safe economically and militarily," stressed Palin, who rocketed to political stardom when John McCain plucked her from obscurity to be his running mate.
Trump is a "master" dealmaker, she said. "He knows how to lead the charge. So troops, hang in there because help's on the way." Using rhetoric that has helped her rally supporters on the campaign trail, Palin drew huge cheers - and smiles from Trump - when she blasted President Barack Obama as a "weak-kneed capitulator in chief" who leads from behind, particularly when it comes to battling so-called Islamic State extremists. "Are you ready for a commander in chief who will let our warriors do their job and go kick ISIS' a**?" she asked.
The endorsement came as news emerged that Palin's son Track, 26, was arrested on domestic violence charges Monday after an armed altercation with his girlfriend, according to court documents filed Tuesday. During the drunken fight at his mother's house in Wasilla, Alaska, Track Palin allegedly brandished a rifle and threatened to shoot himself, according to the documents filed in court and posted online.
Media Heads 'Spinning'
Palin repeatedly knocked the Republican establishment for seeking to derail Trump, warning that they have been "wearing this political correctness kind of like a suicide vest". And she used her trademark on-stage drama to mock reporters she says have criticized her for years. "Media heads are spinning," she snickered. "This is going to be so much fun." Trump said he was honored to receive Palin's endorsement."She is a friend and a high-quality person whom I have great respect for. I am proud to have her support," he said.
Palin's Trump nod is seen as a snub to conservative Senator Ted Cruz, who is neck and neck with Trump in Iowa and running second to him nationally. She campaigned for Cruz during his Senate race in Texas, and Cruz, perhaps getting out front of the Trump endorsement, tweeted his appreciation for Palin on Tuesday. "Without her support, I wouldn't be in the Senate," he wrote. "Regardless of what she does in 2016, I will always be a big fan."
Trump began the day by receiving an endorsement from the daughter of iconic US actor John Wayne. "He represented strength, he represented power," qualities "missing" from today's president, Trump said at the John Wayne Birthplace Museum in Winterset, Iowa, where a life-size wax figure of the actor served as a backdrop. Wayne made his mark in a Hollywood career that stretched from the 1930s to the 1970s, mainly portraying tough cowboys.
Meanwhile it was more bad news for Democrat Hillary Clinton's campaign Tuesday, when CNN released a new poll showing her main rival, Senator Bernie Sanders, holding a whopping 27-point lead over her in New Hampshire, the state which votes second in the nomination race. Support for Sanders has surged by 10 points since the previous CNN/WMUR poll, with 60 percent of likely voters backing him, compared with 33 percent supporting Clinton. - AFP