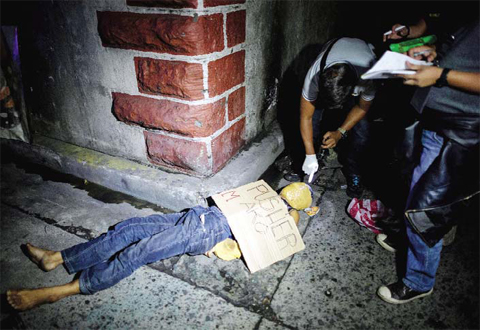 MANILA: Nine people were killed overnight in the Philippines, authorities said yesterday, as police and suspected anti-drug gunmen pushed ahead with President Rodrigo Duterte's controversial war on crime.
Duterte won the May 9 election by landslide largely on a pledge to kill tens of thousands of drug dealers and other criminals, and has urged the police and civilians to help in the killings. More than 100 suspects have been killed in the seven weeks since Duterte's election.
One pre-dawn raid in the town of Matalam, about 900 kilometers south of Manila, left eight "drug personalities" dead yesterday, including a woman, regional police spokesman Superintendent Romeo Galgo told reporters. One other person was arrested on suspicion of drug offences, Galgo said, adding that three pistols and four grenades were found on the dead suspects.
In Manila, police said they found a yet to be identified dead man, his entire head wrapped in tape, on a poorly lit road late Friday. His torso was covered with a cardboard sign reading: "I Am A Pusher". Civil rights campaigners including two legislators called Friday for an enquiry into recent months' police operations amid concerns at least some of the dead suspects could have been summarily executed by the lawmen.
Police have said they had operated within the boundaries of the law in killing 103 suspects between May 10 and July 7. The Manila newspaper Philippine Daily Inquirer's own "kill list" of suspected criminals showed 119 victims of suspected summary killings up until July 7, including 13 unidentified ones, since the elections. — AFP