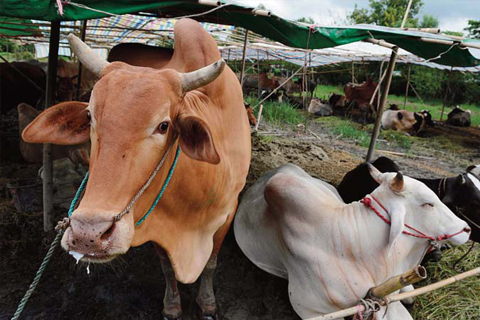 YANGON: Three Muslim men went on trial in Myanmar yesterday for illegally importing nearly 100 cows that have spent the last month under police protection, in a case Islamic leaders say targets their religion. The cows were intended to be ritually slaughtered for the Islamic festival of Eid Al-Adha last month, an event that has become a flashpoint for Myanmar's Buddhist nationalists.
Hardline monks, including firebrand Wirathu from the Ma Ba Tha movement, have railed against the practice and pressured local authorities to ban it. Police took possession of 92 cattle last month when a local monk, Pa Mouk Kha, complained they had been brought into the country illegally. They have been keeping the animals in a football ground north of Yangon for just under a month at a cost of some $300 a day-spending more than $8,000 so far. Two cows have since died. The monks have drawn derision from social media users, who have called the case a waste of public resources in a country where one in four lives below the poverty line.
Yesterday, the three defendants appeared before the court, charged with illegal trading for allegedly importing the cows without the proper paperwork. One of them, Myo Myint, in his 60s, has heart disease and had to be supported by police as he approached the courtroom. His son, Ye Zarni Tun We, said he was "sure" the animals were bought in Myanmar, adding: "We have documents for purchasing the cows."
The men were remanded in custody until their next hearing, while police are still looking for more than 30 other people linked to the case. The cows will soon be auctioned off. Kyaw Nyein, leader of local Muslim group Ulama Islam, said the case amounted to religious persecution. "They did not act illegally," he told AFP. "I am not sure whether they technically broke the rules or not, but I think this case is concerned with religious affairs." Islamophobic sentiment has grown in Myanmar, especially since deadly communal violence erupted between Buddhists and stateless Rohingya Muslims in western Rakhine state in 2012.
Tensions flared on Sunday when nine police officers were killed in a series of attacks on three border posts, which local officials said were carried out by Rohingya. Burmese Muslims also complain of being treated as second-class citizens in their own country, told they are foreigners and legally restricted from marrying Buddhist women. While Ma Ba Tha has lost prominence since Aung San Suu Kyi's democratically elected party took power in March, it remains a powerful political force among Myanmar's devout Buddhists. - AFP