By Ghadeer Ghloum
KUWAIT: In collaboration with the external media department at the ministry of information, Kuwait Gulf Oil Company celebrated the National Day of the Kingdom of Saudi Arabia. The CEO, his deputies and employees of Kuwait Gulf Oil Company extended their congratulations to King Salman bin Abdulaziz Al-Saud, Crown Prince Mohammed bin Salman and the Saudi people on the occasion of the Saudi National Day.
KGOC celebrated this day by organizing an event at The Avenues mall on Sept 23, 2023, where they showcased some traditional Saudi songs and dances, such as the ardah. Flags were distributed to everyone. Competitions were held and gifts were distributed to the audience.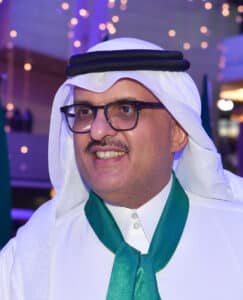 The event was attended by Ambassador of Saudi Arabia to Kuwait Prince Sultan bin Saad Al-Saud and an embassy delegation, in addition to the ministry of information's delegation, KGOC executive management, represented by DCEO of Finance and Administration Affairs Nayef Al-Anezi, and several employees from the head office and joint operations.
Kuwait Gulf Oil Company is the entity responsible for managing Kuwait's share of hydrocarbon resources in the jointly-operated areas of the Khafji and Wafra fields, which are located on the border between Kuwait and Saudi Arabia. The two countries share the oil wealth in these areas equally, and they work together to explore, produce and export it for mutual benefit.
KGOC was established on Feb 10, 2002 to manage Kuwait's share of hydrocarbon resources in the offshore joint area. It officially began its operations on Jan 5, 2003, taking over the responsibility from Arabian Oil Company, which had been operating in the joint area since 1958. In 2006, KGOC assumed the responsibility for managing Kuwait's share of hydrocarbon resources in the onshore joint area as well, which had previously been managed by Kuwait Oil Company through joint operations in the Wafra field.