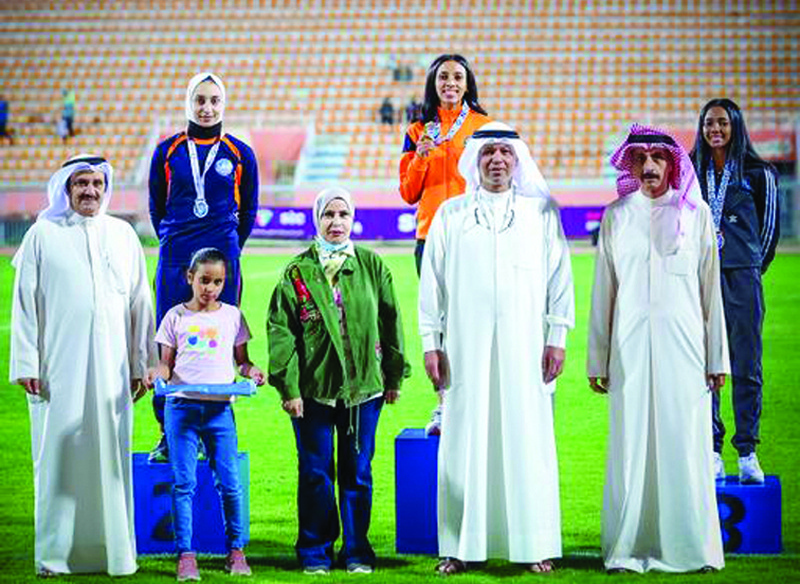 By Abdellatif Sharaa
KUWAIT: The Kuwait women's athletics season kicked off Monday with the participation of five clubs in the first refresher championship, which saw heated competition at the Kazma sports club's track. Salwa club topped the table in the first day after collecting 87 points, followed by Al-Fatat club with 81 points while Kuwait club was third with 47 points, Sahel fourth with 12 points, and Fatayat Al-Oyoun fifth with four points.
Salwa club collected three gold, four silver and two bronze medals, while Al-Fatat collected three gold, three silver and one bronze. Kuwait ended up with two gold and one bronze medals, while Sahel received two bronze medals only.
Salwa club's Dana Al-Zanki won first place in 800 meters running, while Haya Al-Tawajer from Fatat club was second and Sahel's Bedoor Al-Bahar took third place. Latifa Hussein from Kuwait club won first place in the 400 meters running while Salwa club took second and third place by Dima Ibrahim and Fajer Bader respectively.
Salwa club's runner Mudhawi Al-Shimmari won the gold medal in the 100 meters running followed by Sheikha Al-Qattan, also from Salwa club, while Ameena Al-Marhoum from Fatat club won third place. In the 3000 meters running event, Amal Al-Roumi from Fatat club won first place, her teammate Lowlwa Al-Askar won silver while third place went for Noura Adel from Al-Sahel.
In the discus event, Salwa club's Dana Al-Azmi and Ayesha Al-Khader took the first and second places respectively, while Sara Al-Muzayen from Fatat club took bronze. The long jump event was won by Fatat's Shahad Al-Saad followed by Dalal Marzouq from Salwa club and Juan Yaqoub from Kuwait club respectively.