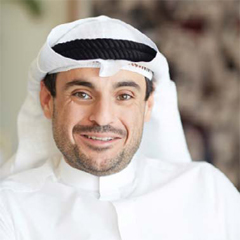 KUWAIT: Gulf Bank yesterday announced a 12% increase in net profit to KD 29.6 million for the first nine months of 2015. The growth in net profits for the first nine months was mainly from higher interest income, fee income, and other income. As of the end of September 2015, the Bank's total assets stood at KD 5,409 million, a 4% increase over the previous year, and the total shareholders' equity was KD 529 million, also a 4% increase over the previous year.
Omar Kutayba Alghanim, Gulf Bank's Chairman said: "I am very pleased to report the continued steady progress the bank has made in the first nine months of the year. Over the period, we have seen a 7% growth in our operating income and a 12% growth in our net profit, driven by strong double digit growth in retail banking, in line with our strategic intention. We have achieved this while continuing our policy of prudency and good governance, coordinated by a very capable and committed Board of Directors. We continue to invest and improve our products and services, using technology as an enabler. These figures reflect a strong and balanced performance, and underline the commitment of our management team and staff to deliver a better customer experience. I am encouraged by these results and believe the bank is well placed to continue this way."
Cesar Gonzalez-Bueno, Gulf Bank's CEO, added: "We have been able to deliver strong results and continue the positive trend of previous quarters. Gulf Bank's management team, with the support and guidance from the Chairman and the Board, is focused on improving its services and introducing products that better serve our customer's needs. Our excellent team of relationship managers in wholesale banking has been complemented by a team of product specialists. In retail banking, we just announced the launch of our exciting new Gulf Rewards program. More innovations will follow."
Superior Service Culture and Products are Keys to Growth
Gulf Bank customers are attracted and retained by the dedication to serve them by its staff. With regards to consumer banking, the Bank has had strong growth. Overall consumer loans increased 15% year-over-year. Earlier this year, the Bank undertook a revamp of two of its customer segments, the Kuwaiti Salary proposition and the Red proposition, which caters to the youth/student segment. New accounts coming from those segments have grown at double digit rates.
The Bank's credit cards business has also continued its strong performance with double digit loan growth. Gulf Bank launched 'point of sale' (POS) terminals with the latest technology that accepts 'near field communication' (NFC). This allows compatible debit and credit cards to be waved or tapped at POS terminals for payment.
Gulf Rewards, the fastest and most rewarding loyalty program, was also launched. It allows points to be redeemed for free flights, with no blackout dates, and free hotel stays in over 300,000 global hotels. All existing Gulf Bank credit cardholders were automatically enrolled and the card is free for the first year. A special technology platform to facilitate easy online booking redemptions was created for Gulf Rewards.
In terms of wholesale banking, our corporate banking group was reorganized to reflect key market segments and to deliver a broader suite of products and services with faster, more efficient customer service for local needs. Technology innovations such as new cash management products, a new collections system, and a series of process automaton initiatives to improve controls in our branches have also been implemented.
Awards
During this quarter Gulf Bank was recognized as the 'Best Cash Management Bank in Kuwait' by The Asian Banker. In the year to date, the bank has won "Best Retail Bank in Kuwait" by The Asian Banker; "Best Retail Bank in Kuwait" and "Best Retail Customer Service Bank in Kuwait" from International Finance Magazine (IFM); "Best Commercial Bank" and "Best Innovation in Retail Banking" from International Banker; "Best Customer Experience Overall Branch" from Ethos Integrated Solutions; as well as "Best Car Loan" and "Best Customer Service (Retail)" from Banker Middle East.
Importance of Human Capital and Focus on Social Responsibility
The Bank was pleased to mark a significant milestone in the third quarter for its Graduate Development Program, which works to build a large cadre of Kuwaiti bankers, by celebrating its first class of graduates. Further investing in Kuwaiti youth, the Bank continued its partnership with INJAZ to deliver educational and leadership development programs. A key heritage event sponsored by the Bank in this quarter was the 'Memorial Journey for Pearl Diving'. This event reminds new Kuwaiti generations of the difficulties and challenges of life, and traditions of previous generations.
In the third quarter the Bank undertook sponsorship of a unique walking and running sporting event in Kuwait, scheduled to take place on 14 November. The Gulf Bank 642 Marathon categories include: 5km walk; 10km walk or run; 21km half marathon, and full 42km marathon. The event will be raising awareness of the growing problem of diabetes and obesity. The marathon has the distinction of being the only full road race in Kuwait to be accredited, in the three longer distance categories, by the international marathon accreditation agency.