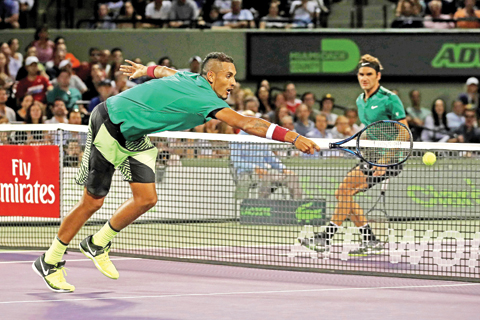 KEY BISCAYNE: Roger Federer's season of resurgence took another thrilling turn Friday night when he won a three-tiebreaker semifinal against Nick Kyrgios at the Miami Open.
Federer failed to convert two match points in the second-set tiebreaker but finished off the flashy, unpredictable Kyrgios an hour later, 7-6 (9), 6-7 (9), 7-6 (5). "It's great winning this way," Federer said. "It could have gone either way. It was a nail biter."
When Federer hit a service winner on the final point, Kyrgios angrily whacked his racket three times against the hard court. Federer patiently waited until the Aussie was done before triumphantly swatting a ball into the stands.
Kyrgios then gave his racket a fling as the crowd booed before sharing a warm, weary exchange with Federer at the net.
Federer saved two match points in his quarterfinal win over Tomas Berdych. Now he's in the final today against Rafael Nadal, 13 years after their first career encounter, also at Key Biscayne.
"My biggest rival," Federer said. "It feels like old times." Said Nadal: "I'm just excited to play against Roger always. He's a big challenge for me, and I think for everybody."
There will be a first-time Miami Open women's champion when Caroline Wozniacki plays Johanna Konta later.
Federer won Key Biscayne in 2005 and 2006 and hasn't been to the final since. But the 18-time Grand Slam champion is on the rise again at age 35. He's 18-1 this year, his best start since 2006, including titles at the Australian Open in January and at Indian Wells two weeks ago, and has won 10 matches in a row.
None was more harrowing than the latest victory.
A sellout crowd was firmly in Federer's corner, and the big-hitter Kyrgios played the role of unpopular spoiler brilliantly. He drew jeers every time he took his frustration out on his racket, received code violations for swearing and slow play, and complained about the fans when they shouted during a rally in the final tiebreaker.
And then there was Kyrgios' high-wire game, including huge groundstrokes that forced his opponent to play some dazzling defense.
"I showed a lot of fight," said Kyrgios, who was seeded 12th and sought a berth in his first ATP Masters 1000 final. "Obviously I'm an emotional guy. I had some ups and downs, a bit of a roller coaster. Ultimately I thought I put in a good performance. I thought the crowd would have enjoyed it."
PAYBACK
Federer had no complaint about Kyrgios' fiery behavior. "Crowds jump on it pretty quickly, but it makes for a good atmosphere at the end of the day,  so it's not all that bad," Federer said. "I think he's good for the game."
Federer rallied from a break down in the first set, and overcame two set points in the first tiebreaker. He didn't face a break point in the final two sets.
Kyrgios' final risky shot backfired - a 128-mph second serve sailed long for a double fault. That gave Federer his third match point - the last one he needed. The victory was payback for Federer after Kyrgios overcame two match points to win their only other meeting, at Madrid in 2015. That match also was a three-setter with three tiebreakers.
"You don't often play three breakers in a match," Federer said. "It's nice to win those. Winning breakers is always such a thrill." Nadal was so eager to reach the Key Biscayne final that he ran out of his shoe. Chasing a shot in the second set of his semifinal, Nadal lost his right sneaker - and the point. But he quickly regained his footing and beat unseeded Fabio Fognini 6-1, 7-5.
Nadal is 0-4 in finals at Key Biscayne, losing in 2005, 2008, 2011 and 2014. He's playing in the tournament for the 13th time, making it his longest title drought at any event. "Winning here would be something great, and an important title I haven't won," Nadal said.
The crowd chanted Fognini's first name in an attempt to get the Italian going after a slow start, and flying footwear did the job. Fognini hit a drop shot to cause the sneaker malfunction, laughed at length while Nadal retied his shoe and played better after that.
Nadal said he also lost a shoe while practicing recently, the only other time he can remember it happening to him. "Strange," he said. "Maybe I need to tie it stronger." - AP