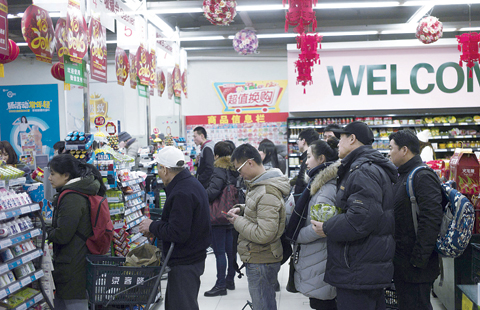 BEIJING: Chinese trade slumped in January, authorities said yesterday, as both exports and imports tumbled with feeble domestic and global demand dragging on the world's second-largest economy.
Exports dropped 11.2 percent year-on-year to $177.5 billion in dollar terms, Customs said, while imports plummeted 18.8 percent to $114.2 billion-giving the Asian giant a record monthly trade surplus of $63.3 billion. Tremors in overseas markets and weakness in partner economies have weighed on China, a main driver of the world's economic growth, and the globe's largest trader in goods.
Rock-bottom prices for commodities such as oil and slowing growth in infrastructure spending have hit China's import values, while exports have been hurt by frail overseas demand, along with rising labour costs and the increasing competitiveness of rival economies.
"We believe the slump in trade growth mainly reflects weakening investment demand, possibly from weaker property investment and measures to reduce overcapacity," wrote Nomura analyst Zhao Yang. The figures were far worse than expected, with economists forecasting a 1.8 percent fall in exports in a Bloomberg News survey, and a 3.6 percent slide in imports.
China's economy grew 6.9 percent in 2015 -- the lowest rate since 1990 -- and is expected to slow further this year, with the darkening perspective contributing to plunges in global stock markets in recent weeks.
It has also been a factor in the decline of the yuan currency in recent months, but analysts said the record trade surplus gave Chinese officials some breathing room to cope with the floods of cash that have flowed out of the country.
Yesterday the yuan leapt up more than one percent in onshore trade, its biggest gain for more than a decade according to Bloomberg News. The large positive trade balance "should help offset some of the capital outflow and alleviate some depreciation pressure on the RMB", said the ANZ analysts.
Happy new year?
The export figures were sharply lower than the 1.4 percent slide in December, when imports had declined 7.6 percent. Inward trade was hammered in January, falling in both volume and value terms, which a BofA Merrill Lynch research report said was "due to weakness in domestic demand and further downward adjustments in commodity prices".
China's leaders are looking to retool the economy to one focused more on consumer spending, but BofA Merrill Lynch said the lack of investment in fixed assets-such as the big-ticket infrastructure projects that long fuelled China's growth-would drag on imports. "The sharp drop of trade in January was a reflection of weak external demand," ANZ analysts wrote in a note, citing weakness in trade partners Korea and Taiwan, although they added seasonal factors may have been an issue.
Capital outflow from China was nearly $160 billion in December alone, according to Bloomberg Intelligence. Over the weekend China's central bank chief blamed foreign speculators in part for volatility in the yuan currency and said there was no further basis for depreciation.
"China has the world's largest foreign exchange reserves," People's Bank of China governor Zhou Xiaochuan said, according to a transcript of the interview posted on the bank's website Saturday.
"RMB depreciation has failed to lift China's export growth so far," wrote researchers with China International Capital Corporation, adding that authorities should make clear their plans for the currency. The benchmark Shanghai index fell as much as 2.95 percent in the morning after a week-long holiday for the Lunar New Year, but pared losses during the day as other regional markets surged, closing down 0.63 percent.
While the trade figures were shakier than expected, Julian Evans-Pritchard of Capital Economics said in a research note that "things may not be quite as bad as they look" due to distortions in the data resulting from the shifting Lunar New Year holiday and capital flows.
Seasonal volatility meant it was "arguably too early to jump to conclusions" before the February figures became available, he said.
Customs earlier gave the figures in yuan terms, which showed exports down 6.6 percent, imports falling 14.4 percent, and a trade surplus of 12.2 percent.
Yuan intervention
China's central bank yesterday fixed the value of the yuan higher by the biggest margin for more than three months after its chief Zhou Xiaochuan said there was no reason the unit should fall further.
The People's Bank of China (PBoC) set the yuan at 6.5118 to $1.0, strengthening 0.30 percent from the fix on February 5 which was the last trading day before a long holiday, according to figures from the national foreign exchange market. It was the biggest jump since November 2. In January Beijing guided the unit down by setting its daily fix lower for eight consecutive sessions.
China is seeking a greater role in global commerce for the yuan, but limits the currency to rising or falling two percent on either side of the daily fix. In early afternoon yesterday the yuan was quoted at 6.4900 to $1.0, up more than one percent from the February 5 closing rate of 6.5695, data from the China Foreign Exchange Trade System showed.
The increase was its biggest rise in more than a decade, according to Bloomberg News. In an interview with Caixin magazine published over the weekend, PBoC head Zhou blamed foreign speculators for volatility in the yuan and said there was no reason it to fall further.
"There is no foundation for continued depreciation," he told the magazine, according to a transcript posted on the bank's website. The Chinese economy grew 6.9 percent in 2015 -- the slowest rate since 1990 and capital has been flowing out of the country due to worries over the flagging growth, causing the currency to weaken.
January's decreases in the yuan fix represented a 1.4 percent fall and raised worries of a creeping devaluation. They echoed moves in mid-August when China adjusted the yuan down nearly five percent over a week, spurring fears it was pursuing a currency war to help boost its flagging exports.
Chinese exports dropped 11.2 percent year-on-year to $177.5 billion in dollar terms in January, Customs said yesterday, as feeble external demand dragged on the world's second-largest economy. Analysts said the yuan was still likely to depreciate further this year. "His (Zhou's) comments signal against the intention for a sharp one-off devaluation, but leave scope for possible further round(s) of gradual depreciation," Goldman Sachs said in a research note yesterday.-AFP