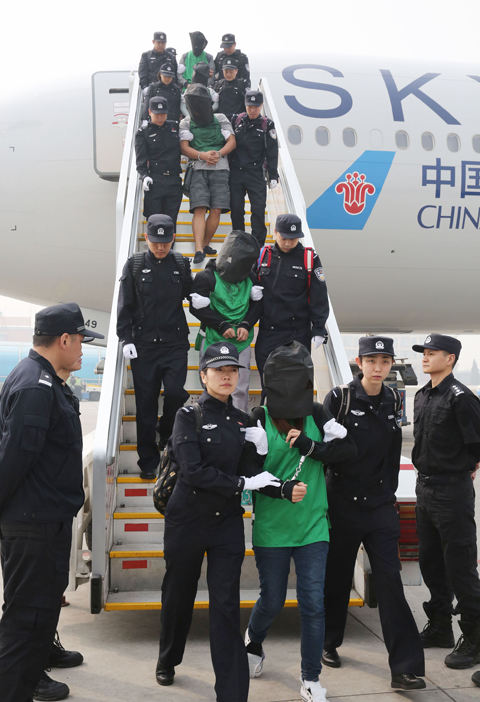 BEIJING: A Chinese spokesman criticized Taiwan after the self-ruled island released 20 fraud suspects just one day after they were deported from Malaysia, citing a lack of evidence.
China and Taiwan have been tussling over which side would prosecute an international ring of Taiwanese who allegedly targeted hundreds of mainland Chinese in telephone scams. Malaysia authorities on Friday deported 20 suspects despite protests from China, which claims jurisdiction because its citizens were victimized.
The spokesman for the Chinese State Council's Taiwan Affairs Office An Fengshan said Saturday that Taiwan had "disregarded many victims' interests and harmed them a second time" after releasing the suspects, and urged Taiwan to "immediately rectify their mistakes," according to a statement on the office's website.
An said releasing the suspects harmed the two sides' years-long cooperation on criminal investigations and called on Taiwan to "prevent greater damage to the development of cross-Strait relations."
The spat has become the latest source of friction in relations between Taiwan and mainland China, which split amid civil war in 1949. Officials in Taiwan have viewed the fight over deportees as a sign that China, which claims Taiwan as part of its territory and has sought to isolate it diplomatically, is interfering with its citizens' affairs abroad and exerting its influence over Kenya and Malaysia. Beijing, meanwhile, has voiced frustration that it cannot deal with criminal suspects targeting its own citizens despite extensive investigations.
The international criminal gang, mostly based out of Southeast Asia, is accused of swindling Chinese through telephone calls by pretending to be police. Earlier this month Kenya sent 45 Taiwanese fraud suspects to China instead of Taiwan, infuriating Taipei officials.-AP