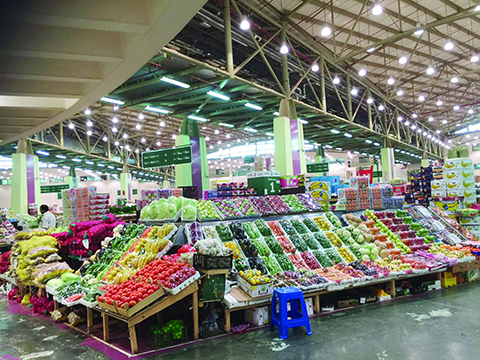 KUWAIT: If you plan on buying large amounts of fruits and vegetables this New Year, Al-Forda Central Fruits and Vegetables Market in Sulaibiyah, near Kabd, is probably the best place to go. Since the market is a place for wholesale/retail activities, the prices are expectedly much cheaper as compared to other markets. About ten pieces of fresh cob corn were sold to this reporter for KD1, while the same quantity is sold for up to KD3 in supermarkets, if not more. The bags of onions are sold from half dinar to KD3 per sack. Cauliflower is sold at 750 fils per bundle, and if you ask for a discount, you could ultimately take it home for as low as 500 fils.
"The key to getting your desired price in Al-Forda is to negotiate," said Iftikar, a Pakistani regular customer buying fruits and veggies at the market. "You can ask even half of the price and most of the time [the seller] will give you the discount especially if you are buying in bulk." Tomatoes weighing between seven and eight kilograms are only sold at KD1, while in the supermarket it is sold for a much higher cost ranging between 400-500 fils per kilogram.
Most of the fruits and vegetables being sold in Al-Forda are from neighboring countries like Saudi Arabia, Jordan and Lebanon. There is currently an oversupply of bell peppers, which dropped their prices to KD1 per box, probably the cheapest item in Al-Forda. "Yes, I heard from the supplier that we have abundance of those so it is cheaper," said Rajish, an Indian fresh produce vendor at Al-Forda Market. "We have many of the product from Kuwait and also from Saudi Arabia, so it is cheaper."
Oranges and apples are also sold per box, and they are much cheaper compared to the prices you would see in the supermarkets. Oranges and apples are sold at KD2 per box, and each box weighs more than five kilograms. Supplies of fruits and vegetables are abundant. And while there are some intermittent shortages of certain items, the reaction would only be reflected in the prices. Nowadays, fruit vendors say that they are regularly getting supplies from new Asian suppliers such as Thailand and India.
"Before, we used to get many supplies from Syria, but because of the war there, we are getting other sources, mostly from neighboring countries," Rajish told Kuwait Times. US and other European countries also regularly supply some needed fruits and vegetables to Kuwait, but those products can mostly be found in some high-end supermarkets in Kuwait, and understandably, they are costly.
By Ben Garcia, Staff Writer