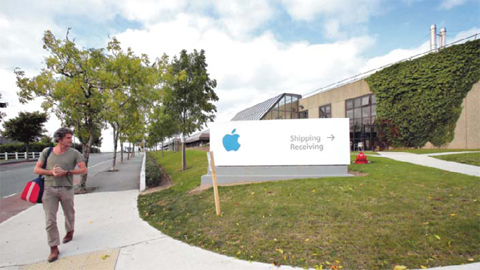 BRUSSELS: 13 billion euros ($14.5 billion) looks like a ton of money for any nation. But for the 4.6 million people of the Republic of Ireland, among the least populous in the 28-nation EU, it's almost unfathomable.
Should Apple eventually pay the Irish that sum, it would represent about 2,825 euros ($3,150) per man, woman and child. In government coffers, that money would easily wipe out Ireland's 2016 deficit and put the country back in the black for the first time in a decade.
Ireland's accelerating economy is already producing rapid growth in tax collections from workers, sales tax and an EU-leading multinational sector of around 1,000 companies with Irish bases. Last year the country spent around 48.5 billion euros - some 13 billion euros of that on health care, the same sum as Tuesday's tax order - and recorded a deficit below 5 billion euros.
1:15 pm
Apple has derided the European Union's ruling that it must pay up to 13 billion euros ($14.5 billion) in back taxes to Ireland.
In a response yesterday, it accused the EU competition authorities of ignoring international and Irish tax law and seeking to scare foreign investment out of Europe. Like the Irish government, the company vowed to appeal and overturn the order. Apple said in a statement: "The European Commission has launched an effort to rewrite Apple's history in Europe, ignore Ireland's tax laws and upend the international tax system in the process."
It added: "The commission's case is not about how much Apple pays in taxes, it's about which government collects the money. It will have a profound and harmful effect on investment and job creation in Europe."
1:05 pm.
Ireland's tax collection agency, the Revenue Commissioners, insists that Apple hasn't dodged a penny of lawfully calculated tax in Ireland. The Revenue Commissioner chairman, Niall Cody, says the overarching problem is "mismatches between different countries' tax rules." Whereas Ireland taxes only a multinational company's profits on sales within Ireland - a country of barely 4.6 million and representing a tiny fraction of those companies' global business - the United States often seeks to recoup tax on a US-headquartered company's profits worldwide.
Cody said Apple's profits "that are not generated by their Irish branches - such as profits from technology, design and marketing that are generated outside Ireland - cannot be charged with Irish tax under Irish tax law."
He says the Revenue Commissioners applied the same Irish tax rules to Apple as to around 1,000 other multinationals, most of them American, with bases in Ireland. He says: "Full tax due was paid in accordance with the law."
12:45 pm
Irish Finance Minister Michael Noonan has rejected the European Commission's ruling and says Ireland will appeal the judgment, insisting that Ireland's tax rules were transparent and straightforward. He has rejected findings that Ireland cut an especially generous tax-avoidance deal to boost Apple's investments in Ireland, where the company employs 5,500 and plans to expand further.
Noonan said Tuesday in a statement issued minutes after the judgment: "I disagree profoundly with the commission's decision. Our tax system is founded on the strict application of the law ... without exception. The decision leaves me with no choice but to seek Cabinet approval to appeal the decision before the European courts."
He accused European regulators of trying to undermine the integrity of Ireland's tax system and subverting rights reserved for sovereign EU states. He said a successful appeal, which could take years, would "provide tax certainty to business." Ireland's Cabinet will meet Wednesday to confirm plans to appeal the judgment.-AP